LAMINATED VENEER LUMBER (LVL)
Key Features Of AK/Apple Ply LVL




THE MANUFACTURING PROCESS
| | |
| --- | --- |
| 1) Peeling and chopping | It starts off with the peeling of veneers to the required thickness and chopping to the required size. |
| 2) Drying | A mechanical drier is used to dry the veneers to a suitable level for the glueing and pressing process. The perfect moisture content per sheet is guaranteed through process measurement, optimised process control and conditions. |
| 3) Gluing | To keep the sheets together, we use a mechanical glue spreader to apply adhesive between each layer. Then we examine the core veneers visually to check if the glue is evenly distributed. |
| 4) Assembling of veneers | Here all requirements of LVL standards are fulfilled. And the layers are assembled as per the thickness of LVL. |
| 5) Hot pressing | Proper temperature, pressure and timings are given as per the size and thickness of LVL. After pressing, the material is unloaded and stacked for cooling. |
| 6) Trimming | The edges of the LVL are then trimmed and checked for dimension. |
| 7) Sanding and finishing | Trimmed sheets are then sanded on both sides to obtain a smooth finish. |
| | |
| --- | --- |
| Raw materials | Melia dubia/Silver oak |
| Length | 2440mm, 2135mm, 1830mm |
| Width | 75mm to 1220mm |
| Grain direction | Lengthwise |
| Product thickness | 20mm to 75mm |
| Resin | Phenolic/MF/UMF |
| Density | 0.53 gm/cm3 |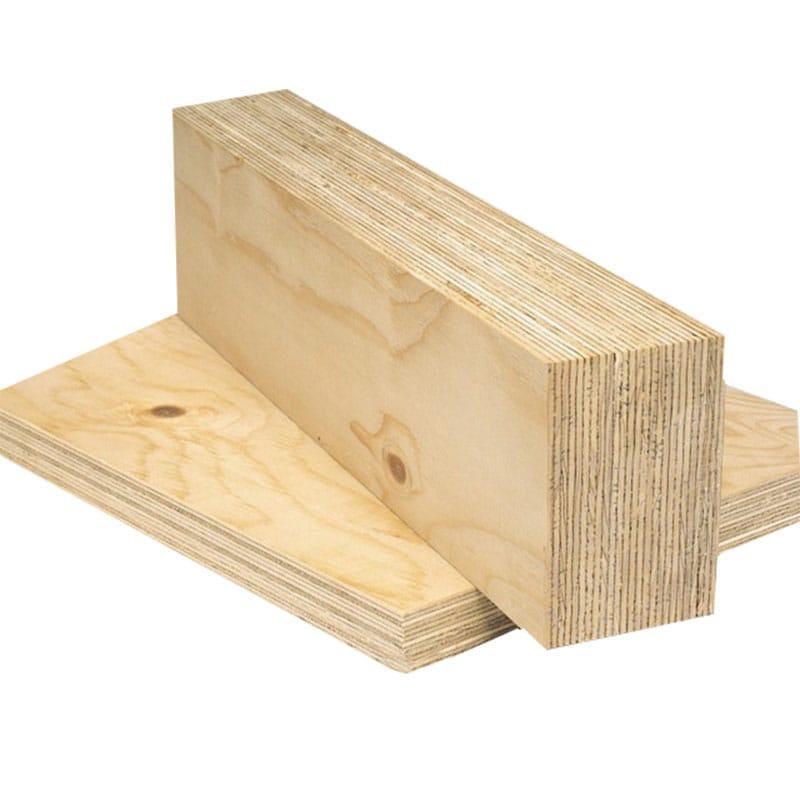 WHAT

 

IS

 

LAMINATED

 

VENEER

 

LUMBER?
Laminated Veneer Lumber (LVL) is a type of high strength engineered product that can be used as an alternative to solid timber, concrete, and/or steel for structural application.
AK Group's Apple plywood manufactures LVL with 100% Neem/Silver oak long core veneer. It is cost-effective and made of sustainable building material that provides high structural reliability and strength.
Being a homogeneous and dimensionally stable building material, laminated veneer lumber uses are many. AK Group/Apple Ply's LVL can be used in both bearing and non-bearing walls, like planks, beams, headers, doors, window frames, sliding doors, rails, steps, as well as in engineered building construction. Multiple veneer lumber beams can also be assembled to provide greater strength to carry greater loads.
What are the advantages of using laminated veneer lumbar?
AK Group's Apple Ply LVL is a cost-effective and efficient product that is consistent in quality and reduces waste on the job site. It is also less prone to shrinkage or warping and is able to span longer distances and support heavier loads than conventional lumber.
Is LVL waterproof?
Yes, it is. Phenol-formaldehyde resin adhesives are used to give it waterproof bonds.