AK/APPLE FINGER JOINT RUBBER WOOD
Key Features of Finger Joint Rubber Wood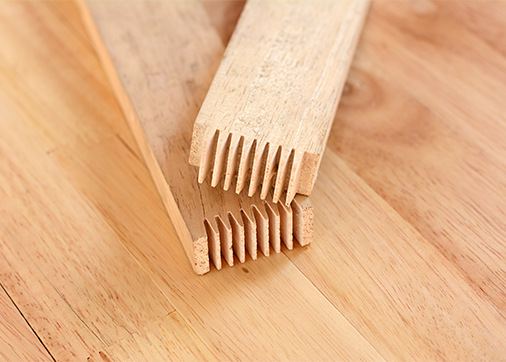 WHAT

 

IS

 

FINGER

 

JOINT

 

WOOD?
A finger joint, commonly known as a comb joint, is a type of woodworking node that is made by cutting a set of complementary, interlocking patterns in two pieces of wood and then glueing them together. Rubberwood is one of the materials that may be used to make them.
Finger joint rubber wood boards are made from treated rubberwood which are kiln dried, finger jointed, edge glued, cold-pressed and sanded to make sheets of ready to use panel boards. The finger-jointing technique used for the production of high-quality edge-glued panels provides the same strength properties as any solid wood with the added benefit of dimensional stability.
What are finger joint boards prices like?
The price of a finger joint rubber wood board costs approximately ₹ 95 per square foot.
What are the uses of finger joint wood?
They are commonly used in the construction of panels, tables, wardrobes, beds and other similar furniture.
Is finger joint wood strong?
Yes, The joints are made up of many meshing wedges or "fingers" of wood bonded together with glue in two adjacent sections, making it exceptionally strong and durable.