AK GROUP'S APPLE FLEXI PLY
Key Features of Flexi Ply


Easy To Shape Difficult  Furniture

100% keruing Veneers & Quickly bonds with other materials

Resilience to wear and tear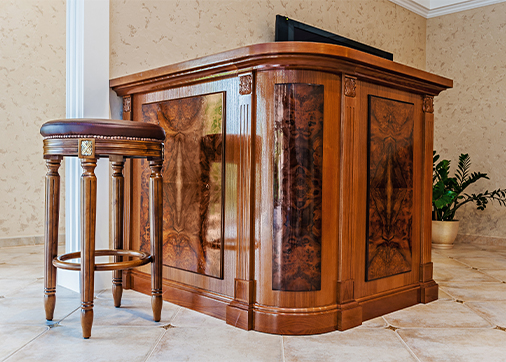 EVERYTHING

 

YOU

 

NEED

 

TO

 

KNOW

 

ABOUT

 

AK/APPLE

 

FLEXIBLE

 

PLYWOOD
AK/Apple Flexi Ply is the first choice for all imaginative ideas with bends and curves. Flexible plywood meets all the curvaceous requirements. It bends at a certain radius and is very friendly to use. Carpenters can curve and bend AK/Apple Flexi Ply with ease without the use of any specialized tool. AK/Apple Flexi Ply Or flexible plywood is manufactured with Keruing veneers; one of the latest engineered products based on wood and is hailed as architects' dream product.
The Assembly of veneers in Flexi Ply is quite opposite to that in plywood, the veneers are assembled along the length of the plywood. The Flexi Ply developed through this method has great potential for applications in cabins of hemispherical shapes and arch panels.
We offer Flexi ply in a range of sizes, including standard sizes such as:
8ft by 4ft
7ft by 4ft
7ft by 3ft
6ft by 4ft
6ft by 3ft
We also offer flexible plywood of thickness:
What are flexible plywood prices in India like?
Flexi Ply made of Gurjan and Hardwood costs around ₹28/ Square Feet. In terms of thickness, a 6mm flexible plywood price would be around ₹39/square feet and ₹ 48/ square feet for a 9mm Flexi Ply.
What is Flexi Ply used for?
They are usually used in furniture that requires curvature like rocking chairs, curved sofa, round coffee tables, etc. They are also used in making decorative woodwork.
Is Flexi plywood waterproof?
Yes, Flexi Ply is waterproof and termite/borer proof. This makes it favourable for kitchen, bathroom and laundry rooms where exposure to water is high.