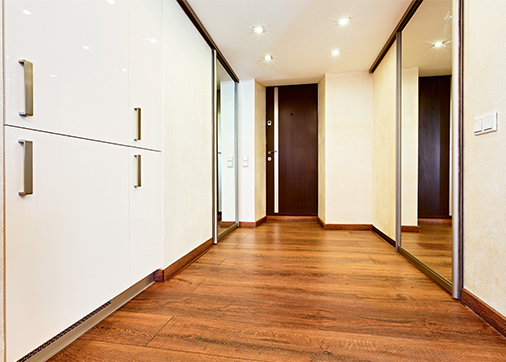 AK/APPLE

 

LAMI

 

DOORS

 

(METAL

 

SERIES)
Our whole new series of laminated doors are seamless and come with wood grain finish as well as a silver metallic finish. These doors are made on solid core ISI grade flush doors and are free from repeated maintenance. Thicknesses of the laminates used are 0.7mm, 0.8mm and 1mm. The doors available as per customer requirements and are also available in combination with glass panels.



A range of sizes are available according to customer needs.
Common thickness range from 25mm to 45mm
Phenol formaldehyde (PF) for weather and Boil Water Proof (BWP) and low formaldehyde formulation for compliance to emission level requirements such as E1.
1) Dimensional stable core signifying enhanced strength and extra durability.
2) Its frames provide strength for fitting of hinges and anti deviation resistance.
3) Chemically treated to resist borer and termite attack.
4) Kiln dried to resist moisture, warping and to avoid twisting.
5) Manufactured to suit local climate and ready onto fix doors.
6) Excellent strength, stiffness impact resistance
7) Unique dimension stability
8) Superior finish.
ADVANTAGES OF FINGER JOINT: (AS PER BIS SPECIFICATION)
Finger jointing results in higher quality and stronger pieces and components, while dramatically reducing waste in the industry. By using finger joints, it is possible to produce pieces of sawn timber that are made completely of heartwood, knotless and very straight. The most important advantages of finger joint wood are straightness, dimensional stability, and the end product is always of premium quality.
INSTALLATIONS & STORAGE GUIDELINES FOR FLUSH DOOR-
1) Deliver doors to the building site after the plaster, drywall and/or concrete dries.
2) Stacking of flush doors are recommended to be in a horizontal position on a flat floor in a clean, dry, well-ventilated building; the doors shall be kept away from direct sunlight and source of extreme heat, cold or humidity. Do not lean on the doors vertically against a wall or other structure.
3) If the doors are being stored at the job site and not for immediate installation, the top & bottom sides must be sealed.
4) Flush doors should not be trimmed by more than 10mm at any of its edges.
5) Locks should be placed at exactly the place shown by the sticker, immediately after the installation.
6) The gap between the frame and door shall be 3mm.
7) Polish/paint or laminate on door surface is recommended to be on both sides and with same characteristics material only, to avoid warpage later on.